Hyundai Delivers First 7 XCIENT Hydrogen Trucks to Switzerland
Hyundai Motor's delivery of the world's first mass-produced XCIENT fuel cell trucks to Europe marks the company's expansion into global markets.
The South Korean automaker has handed over the first 7 of 50 hydrogen trucks planned this year to customers in Switzerland.
Following a successful launch in Europe, Hyundai announced plans to offer XCIENT Fuel Cell heavy commercial trucks in North America and China.
XCIENT Fuel Cell's production capacity will reach 2,000 units per year by 2021 to support expansion in Europe, the US and China as demand for greener transportation solutions grows. The capacity increase will be supported by a $1.3 billion investment, in addition to the previously announced $6.4 billion stake in building a hydrogen ecosystem to support the creation of a hydrogen society.
The Hyundai XCIENT hydrogen truck is powered by a 190 kW hydrogen fuel cell system with two 95 kW fuel cell stacks. Seven large hydrogen tanks offer a total capacity of around 32.09 kg of hydrogen. The XCIENT Fuel Cell has a range of approximately 400 km per filling, which has been designed with an optimal balance between the specific requirements of potential commercial fleet customers and the charging infrastructure in Switzerland. Refueling time for each truck is approximately 8-20 minutes.
In the US, Hyundai is partnering with logistics leaders to supply mass-produced heavy-duty fuel cell trucks. Hyundai unveiled the HDC-6 NEPTUNE Concept Class 8 fuel cell heavy duty truck at the North American Commercial Vehicle Show (NACV) in October 2019, hinting at Hyundai's future and plans in this regard.
To support this plan, Hyundai is partnering with companies to build a complete hydrogen value chain, spanning everything from hydrogen production and filling stations to maintenance and repair. By 2030, Hyundai expects more than 12,000 fuel cell trucks to be on US roads.
Hyundai is also working with various companies in China, which aims to put 1 million hydrogen vehicles on its roads by 2030 as the country's hydrogen industry is on a growth trend, creating huge potential.
There are plans to launch three fuel cell electric trucks in China: a medium-duty truck in 2022, a heavy-duty truck in a couple of years, and another heavy-duty truck strategically designed for the Chinese market. With these models, Hyundai's goal is to achieve cumulative sales of 27,000 units by 2030.
Key to Hyundai's global expansion in fuel cell trucks will be the successful launch of XCIENT Fuel Cell in Europe.
The seven customers who received the first batch of XCIENT fuel cell trucks will be transporting loads of consumer goods across Switzerland, throwing away only clean water. Operations will be supported by a robust green hydrogen ecosystem.
In 2019, Hyundai Motor Company established Hyundai Hydrogen Mobility (HHM), a joint venture with Swiss company H2 Energy. HHM is also a partner of Hydrospider, a joint venture between H2 Energy, Alpiq and Linde. Customers will lease XCIENT Fuel Cell trucks from HHM on a pay-as-you-go basis, requiring no initial investment. Hyundai will take the Swiss success to wider European markets as Hyundai builds solutions and partner networks in Germany, Norway, the Netherlands and Austria.
As part of its production expansion plan, Hyundai plans to deliver 1,600 fuel cell commercial trucks by 2025. Currently, Coop, Migros, Traveco, Galliker Logistics, Camion Transport AG, F. Murpf AG and G. Leclerc Transport AG and others have placed orders for the XCIENT Fuel Cell. They will use trucks to transport everything from food to cars across Europe.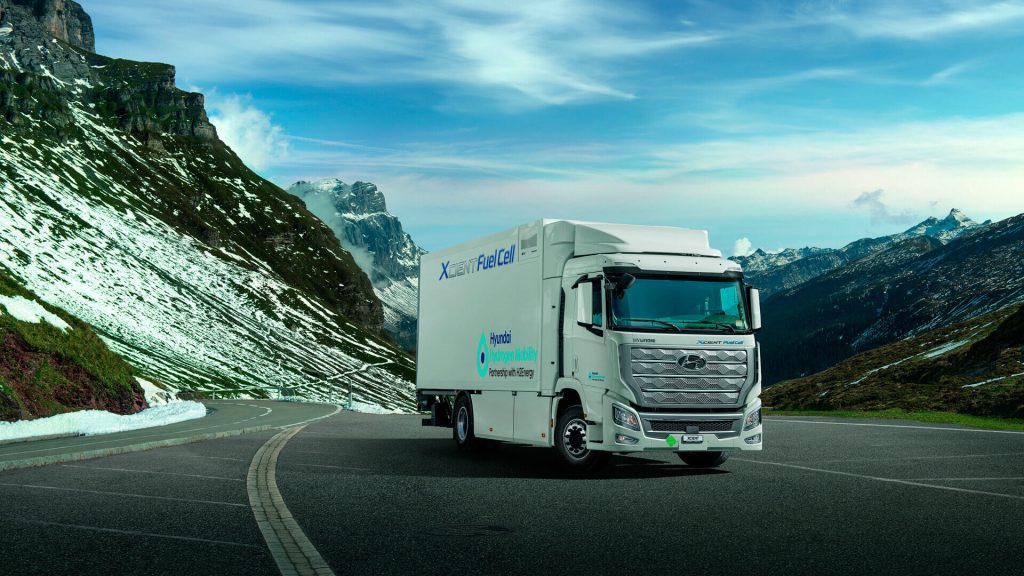 To support the growing hydrogen ecosystem, Hyundai has a business case for more than 100 hydrogen filling stations in Switzerland, enough not only for commercial vehicles, but also for fuel cell electric passenger cars. Likewise, Hyundai plans to act as an industry liaison to attract various players in the hydrogen value chain as part of its value-adding efforts.
Hyundai will introduce a complete replacement for the XCIENT Fuel Cell model, which will be installed on a dedicated hydrogen fuel cell truck platform in the next few years. The new model will feature an electronically controlled axle and two 200kW fuel cell systems that are under development. The new model's lineup will include 4×2 and 6×2 trucks and 4×2 tractors, which could cover a significant portion of Europe's core heavy truck market. The 44-ton GCW truck will have a range of up to 1000 km without recharging. These models will help replace pollutant-emitting diesel trucks.