Hyundai starts building EV Innovation Center in Singapore
South Korean Hyundai Motor Group announced the start of construction of a research and development center in Singapore (HMGICS).
The center will act as an open innovation lab for Hyundai's future mobility research and development to revolutionize the future value chain spanning the entire vehicle lifecycle.
"HMGICS is a big step forward for Hyundai Motor. This is the first building in the world. This will pave the way for more Korean companies to invest here, partner with local suppliers, and collaborate with our universities and research institutes. Singapore's goal is to have all our vehicles run on clean energy by 2040, in line with our commitments under the Paris Agreement. We hope this will open up new growth areas for our economy and create exciting jobs for Singaporeans," Singaporean Prime Minister Lee Hsien Loong said at the virtual groundbreaking ceremony.
Through HMGICS, Hyundai Motor Group is pursuing its vision of innovation in the human-centered mobility value chain with three strategic directions:
will increase the value of work and the dignity of employees through a human-centered digital transformation. HMGICS will develop innovative systems that combine advanced technologies such as artificial intelligence, information and communications technology and big data to create a work environment that realizes creativity and enhances human value.
will create a customer-centric intelligent mobile environment in which products are tailored to customer needs and mobility services enrich customers' lives.
will contribute to building the smart nation of Singapore as a responsible industry player in the smart ecosystem. HMGICS, located in the heart of Singapore, will use clean energy sources such as solar and hydrogen to achieve carbon neutrality.
In the future, customers will be able to buy cars online using their smartphone, which will immediately start production using Hyundai on-demand technology. Customers can then watch their vehicles being produced at HMGICS. Once the car is ready for delivery, it will be taken to the 620m Sky Track where the customer can test drive.
Sky Track will be located at the top of a state-of-the-art seven-story HMGICS Innovation Lab located in the Jurong Innovation District (JID). JID enables organizations to collaborate by bringing together the various nodes of an advanced manufacturing ecosystem into a single area to create a one-stop advanced manufacturing hub. Under a plan created to accommodate the entire industrial value chain, JID is home to a vibrant ecosystem of researchers, technology and training providers, and cutting-edge manufacturers.
The building will also have a boarding port for urban air mobility (UAM) as well as solar panels providing clean, renewable energy.
The center will gradually expand the use of renewable energy sources to eventually use fuel cells as an energy source to minimize emissions from electricity generation.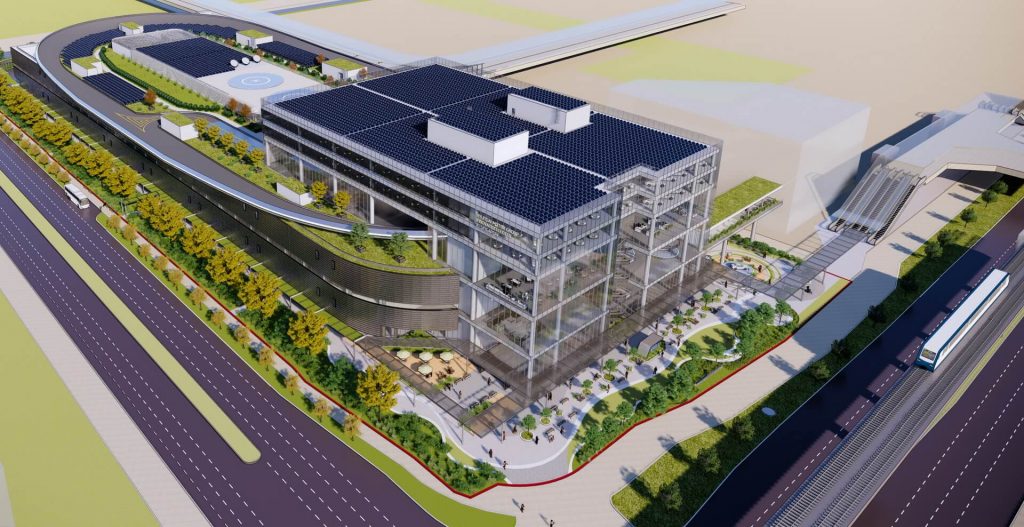 The center will also act as a testbed for a human-centric smart manufacturing platform with small-scale on-site production of electric vehicles. The facility will use the latest "Industry 4.0" smart technologies such as artificial intelligence (AI), Internet of Things (IoT) and robotics. The logistics and assembly lines at HMGICS will be highly automated to create a safe and efficient working environment. Hyundai Motor Group will also be testing versatile systems that allow multiple models to be produced in order to effectively respond to rapidly changing market conditions.
Hyundai's vision of progress for humanity also prioritizes sustainability, and the center will play a key role in identifying mobility opportunities. The center will also explore new business concepts, including BaaS (Battery as a Service), to improve the customer's electric vehicle experience.
HMGICS will cover an area of ​​44,000 m2 and a building area of ​​28,000 m2. The site will be completed by the end of 2022.